Chapter 6: In case of emergency.- Warning signs on the road, engine overheating, engine start emergency, protecting electrical circuits, trailer, if you have a flat tire.
Chapter 7: Basic Maintenance.- Table maintenance, maintenance by the owner, engine compartment, engine oil and filter engine, engine cooling system, brakes and clutch, bands transmission, power steering, automatic gearbox, manual gearbox, rear differential, transfer case (4WD), lubricants and fluids, air filter, air filter, air conditioning, feathers wipers, battery, tires and wheels, lubricant specifications, interior and exterior maintenance.
Chapter 8: Specifications Kia Sportage.- Dimensions, weights, motor, electrical system, gear ratios, tires, building, light bulbs.
Chapter 9: Index of Kia Sportage Manual
Contents Kia Sportage Workshop Manual
Chapter 1: Overview
Chapter 2: Automatic Gearbox
Chapter 3: Body, interior and exterior
Chapter 4: Electrical wiring and electrical system body
Chapter 5: Brake System
Chapter 6: System Clutch
Chapter 7: Transmission, steering, suspension and brake
Chapter 8: Control system emission
Chapter 9: Engine Electrics
Chapter 10: Mechanical Engine System
Chapter 11: Fuel System
Chapter 12: Heating, Ventilation and Air Conditioning
Chapter 13: Manual Transmission
Chapter 14: Security and Safety Systems
Chapter 15: Power steering or power steering
Chapter 16: Suspension System
Chapter 17: Transfer system wheel drive
Please Choose your Kia Sportage Manuals:
Kia Sportage Manuals, Generation I (1994, 1995, 1996, 1997, 1998, 1999, 2000, 2001, 2002, 2003)
Owner Manual: PDF format, Language English, 292p, Size 47.9 MB
Workshop Manual: PDF format, Language English, 1307p, Size 81 MB
Electrical Diagrams: PDF format, Language: English, 223p, Size 10.9 MB
Price $10.97 INMEDIATE DOWNLOAD
Kia Sportage ACTIVE manuals , Generation II, 2.0L engine (2005-present)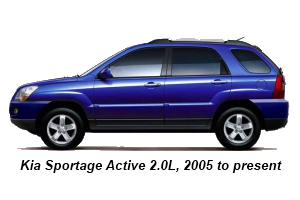 Owner Manual: PDF format, Language English, 371p, Size 5.22 MB
Workshop Manual: PDF format, Language English, 2543p, Size 78.0 MB
Price $10.97 INMEDIATE DOWNLOAD
Kia Sportage ACTIVE manuals, Generation II, 2.7L V6 engine (2005-present)
Owner Manual: PDF format, Language English, 371p, Size 5.22 MB
Workshop Manual: PDF format, Language English, 2538p, Size 77.7 MB
Price $10.97 INMEDIATE DOWNLOAD
Kia Sportage R manuals, 2.0L-2.4L engine, Generation III (2010-present)
Owner Manual: PDF format, Language English, 387p, Size 8.44 MB
Workshop Manual: PDF format, Language English, 1501p, Size 54.5 MB
Price $10.97 INMEDIATE DOWNLOAD